2021 Sales Summit
Renaissance Atlanta Airport Gateway Hotel
January 11, 2021
121 virtual; 9 in-person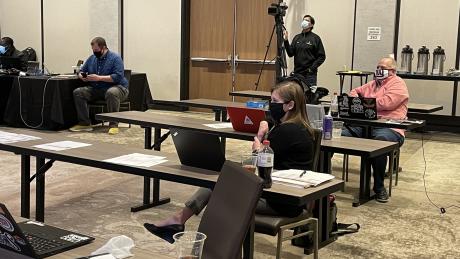 We brought the leadership team and key speakers together in one location to still include the production value to the event. The sales team attended virtually over two days, closing with the awards celebration on day two. This gave the opportunity for family members to join in as well.

The event was hosted at the Renaissance Atlanta Airport Gateway Hotel. We had nine people in person at the hotel. Cvent Virtual Attendee Hub was secured as the platform, including four advanced production sessions and six collaborative sessions. The stage set-up and video production of the advanced production sessions were the reason we brought the speakers together in Atlanta.

We set the room for each person to be socially distanced, each having their own 8 ft table that was their home throughout the program. Masks were required unless you were on the stage speaking or actively eating or drinking. The hotel had many protocols in place and provided hand sanitizer in the meeting room and public spaces. Our room for lunch and breaks was set-up for three people per banquet round and ensuring at least 6 ft between tables. Any break foods were pre-packaged and buffet meals were served by staff. Our team had all meals, etc. in the hotel so they did not need to leave other than for their flights or drive back home.