Connect 2020 Marketplace
Orlando World Center Marriott
October 18, 2020
1000 in-person; 175 virtual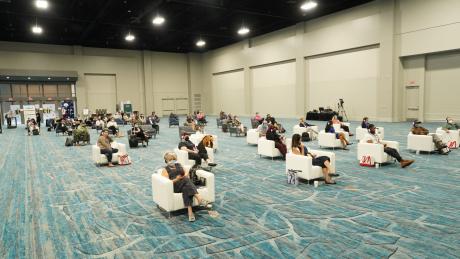 There were many Safety Protocols taken during the event which included:

In a new education setup, sessions that would usually take place in the hotel's smaller meeting rooms occurred in large ballrooms.

Tables for one-on-one appointments were set up lengthwise and conversations were had at 10-12 feet of distance.

Food stations were scattered throughout so long lines and could be avoided. The same went for pre-made drinks, as well as White Claw Hard Seltzers that were set out for grab and go self-service to avoid crowding at bar stations.

The trade show was spread out across the 39,000-sq.-ft. Crystal Ballroom. Many exhibitors noted their appreciation for the spaced-out booths and wider aisles so that large groups of attendees never felt cramped or congregated in one area.

Connect staff and security were on guard for anyone without masks or for those wearing the coverings improperly.

Plenty of masks were available on-site via swag bags, vendors in the trade show and a Connect mask giveaway, which donated $10 to either Black Lives Matter or LGBTQ organizations for every procured mask.