Connect Marketplace
Orlando World Center Marriott
October 19, 2021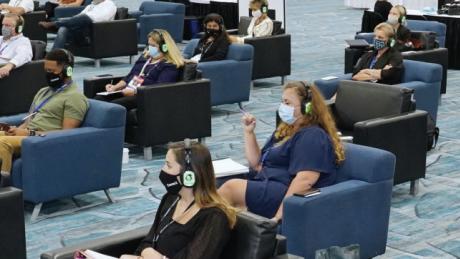 For most independent show organizers, 2020 has been a roller coaster of ups and downs with postponements, rebooking, more postponements, and cancelations for many. For the Tarsus team that produces Connect Marketplace and BizBash, it meant two postponements and three different cities over a three-month timeframe.

"Canceling would have been the easy thing to do, but we were determined to get our industry back to business," said Stephanie Davis Smith, VP of Content and Marketing, Connect Meetings. "We knew all eyes were on us." Connect, an event for meeting planners and those in the travel and tourism industry, kicked off 2020 with a live event in late February, when 2,000+ attendees packed the general session to see former U.S. President Barack Obama. It marked the third time that Connect had secured a presidential speaker.

While this strategy has worked well for Connect previously, the team knew it had to rethink entertainment and speakers and shift its budget to health-related costs, including cleaning, security, temperature checks, and in-house physicians on site. "One of the most expensive investments we made was having physicians and a medical team on-site for three days," said Davis Smith.

They also knew: Event planners want to meet in-person, if at all possible, even in a pandemic. "The No. 1 reason why we came is to support the industry and to show our customers that you can put on events even during a pandemic," said Connect attendee Yvette Campbell, Meeting Broker for Meetings Made Easy, a global hotel and venue sourcing provider. "We need and want to have live face-to-face events come back.

Since the pandemic hit, our thought process has been to provide educational information to show association and corporate clients that you can safely put on events during the pandemic."

Read More: https://cdn.asp.events/CLIENT_Society__29E39640_5056_B733_49E3722D57F04B89/sites/SISO/media/case-study/SISO-UFI-Case%20Study_(Connect%20Marketplace).pdf