Jewelers International Showcase
Miami Beach Convention Center Miami Beach, FL
March 22, 2021
3,000 buyers and 170 exhibitors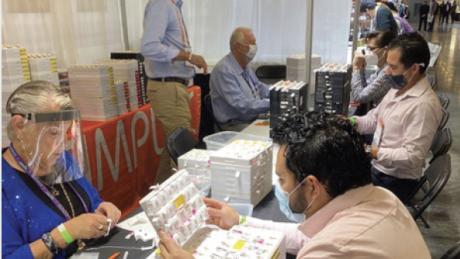 The B2C show was the last event produced in the U.S. before the pandemic by Reed Exhibitions USA, a division of Reed Exhibitions (RX), one of the largest global organizers with 400+ shows annually.

On March 22, RX USA got back into the live face-to-face (F2F) channel when it safely opened the trade-only 2021 Jewelers International Showcase (JIS) at the Miami Beach Convention Center.

Held in Miami since it launched in 1979, JIS is typically held twice a year in January and October, with the last show taking place Feb. 9-11, 2020, immediately following Super Bowl LIV in Miami. The show usually takes place in January but was moved to early February to avoid conflicting with the Super Bowl-related events happening at the convention center.

After rescheduling and pushing back the 2021 event to later in the calendar, JIS March attracted nearly 3,000 buyers and 170 exhibitors from across the U.S. Attendees included independently owned jewelry retailers, boutiques, online and specialty retail buyers, as well as designers, diamond dealers, pawnbrokers, wholesale buyers, and distributors. The largest booths included companies like Alishaev Bros AY, Inc., Gold-N-Diamonds Inc. Jewelry, A.V. Diamonds and ABM Gold & Diamond. Total attendance was up 10%, with some 15% of visitors coming from outside the U.S., said Jordan Tuchband, Industry Vice President of JIS Events.

"Although the jewelry industry has remained strong through the pandemic and jewelry sales have performed well, buyers still need to see jewelry in person, and be able to touch, feel, and try on the pieces before committing to merchandise they'll stock in their stores," said Tuchband. "We are so pleased that we were able to bring the unique jewelry markets JIS represents together again to provide in-person networking and business after an unprecedented year, while keeping health and safety top-of-mind for a productive show experience."

RX had the opportunity to put its new health and safety measures into practice. "Standardization was difficult, but we started by creating a task force within RX comprised of stakeholders from across the entire business, not simply operations," said Mike Grant, Senior VP, Operations Group, RX USA. "We had representation from sales, marketing, conference, and other critical staffers who understood the different specifications within the business. We crafted our plans relative to the pre-show, on-site, post show experiences. We felt the need to develop our own enhanced protocols and mission statements above and beyond what was being put out by the industry."

The impact of COVID on the jewelry sector was mixed, but it fared better than some industries during the pandemic. Consumers did spend money on jewelry since they weren't taking any big trips abroad. While U.S. consumers weren't typically going abroad during the pandemic, many urban residents flocked to tourist destinations — especially those within driving distance.