WEC Grapevine
Grapevine, TX
November 3, 2020
600+ in person; 1,100+ virtually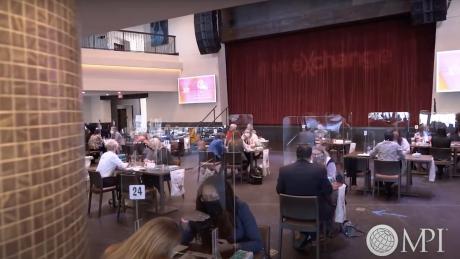 The following was our communication of Duty of Care to attendees sent in the Know Before You Go and included in our onsite mobile app.

DUTY OF CARE
We are following the guidance from worldwide health organizations and experts. We are fully committed to taking appropriate precautions to provide a safe and healthy environment for attendees. We encourage our attendees to work with us to help make this happen.

MPI staff will execute the following best practices to help attendees stay healthy and to reduce exposure and risk:
Provide sanitizing and disinfection materials for general attendee use.
Increase cleaning and disinfection across high-volume common areas.
Monitor recommendations from the relevant health authorities including the Centers for Disease Control and Prevention (CDC), and the local government and city officials.
Encourage attendees to adopt some best practices in order to act in their own best interest and in the best interest of their fellow attendees.

By attending our World Education Congress (WEC) in Grapevine, TX, you agree to abide by and engage in certain health-and-safety-beneficial conduct while attending the event. This includes, but is not limited to, submitting to daily temperature checks, wearing a mask at all times unless actively eating or drinking, engaging in appropriate physical distancing, and not attending the event if you are ill or have been recently exposed to COVID-19.

Attendees are asked to manage their own preparedness and behavior as well:
If you are feeling feverish or coughing prior to arriving at the conference, please stay home.
Wash your hands often with soap and water for at least 20 seconds, especially after going to the bathroom; before eating; and after blowing your nose, coughing, or sneezing.
If soap and water are not readily available, use an alcohol-based hand sanitizer with at least 60% alcohol.
Avoid touching your eyes, nose, and mouth.
Cover your cough or sneeze with a tissue, then throw the tissue in the trash.
Maintain social distancing.
Disinfect personal items such as cell phones and laptops that you use often.

You may also want to:
Consider the adoption of a no-handshake policy.
Be considerate of fellow attendees and exercise good judgment.
And most of all, if you are feverish or coughing, please stay in your room and notify our 24/7 onsite medical support by calling Dr. Arriviello at (630) 650-9888.

Daily Health/Temperature Check
Prior to arriving to the education areas each morning during WEC, you must complete the required daily health screening located in the app using this link: https://inhousephysicians.formstack.com/forms/mpi. This link will also be included in daily push notifications. Once you fill out the form, it will text you a pass that you will show at the temperature check station. DAILY COMPLETION OF THE FORM IS MANDATORY FOR ENTRY INTO WEC.

Once you have completed the health screening, you will receive a notification indicating whether you are cleared for entry into the temperature check area. Health screenings are good for a single day only and must be completed every day that you are participating in WEC. If you receive a "Cleared for Entry" icon, then please show this to the staff and proceed to the temperature check area. If you receive a "Not Cleared for Entry" icon, then please show this to the staff. They will escort you to the on-site medical clinic for further evaluation.

Every day when you arrive at WEC, your temperature will be checked by InHouse Physicians (IHP) staff. Anyone presenting with a fever of 100.4 or greater will be escorted to the IHP clinic for further evaluation. Once you pass the temperature check you will receive a colored wristband that you will need to visible wear for all WEC activities for that day. DAILY TEMPERATURE CHECKS ARE MANDATORY FOR ENTRY INTO WEC.

InHouse Physicians
The onsite clinic is provided by InHouse Physicians located in Austin 456.

Hours
Monday 3:30 pm - 8:00 pm
Tuesday 7:00 am - 5:30 pm
Wednesday 7:00 am - 6:00 pm
Thursday 6:30 am - 5:45 pm
Friday 7:30 am - 5:30 pm

24/7 onsite medical support
Dr. Rich Arriviello - 630.650.9888

COVID Liability Waiver
If you did not already agree to the COVID Liability Waiver during the registration process, you will need to go back to your registration and agree to the terms. You must do this prior to arriving onsite. Anyone who registered BEFORE June 30th may not have filled out this form.

To do so, you can go to www.mpi.org/wec and then click 'Already Registered' that's located in the top right corner. Enter your email address and registration confirmation number.

This will take you to your attendee page where you can click the modify button. Click through your registration until you get to the liability waiver page. Select agree and click through until you get to the end and can click the finish button. If you have any questions about this, please email wecreg@mpiweb.org.